NDS-4900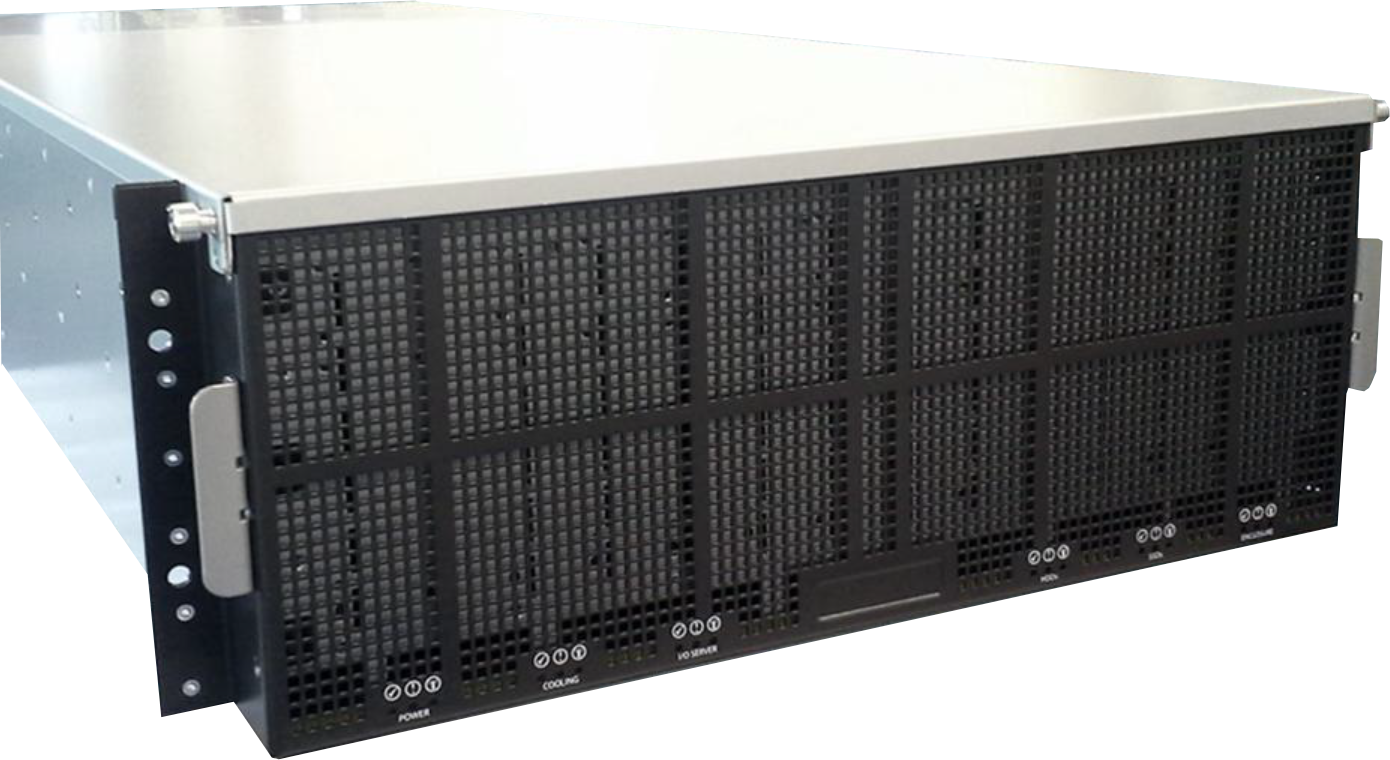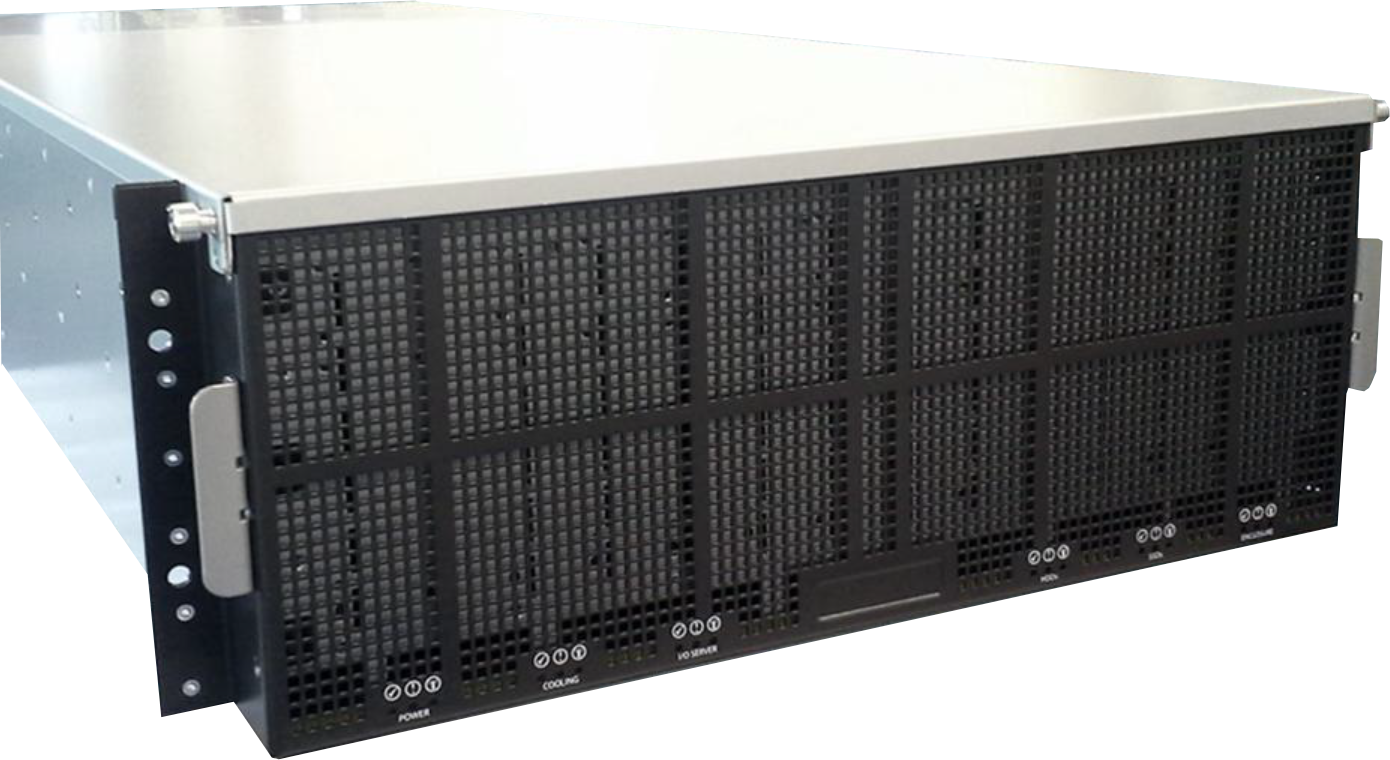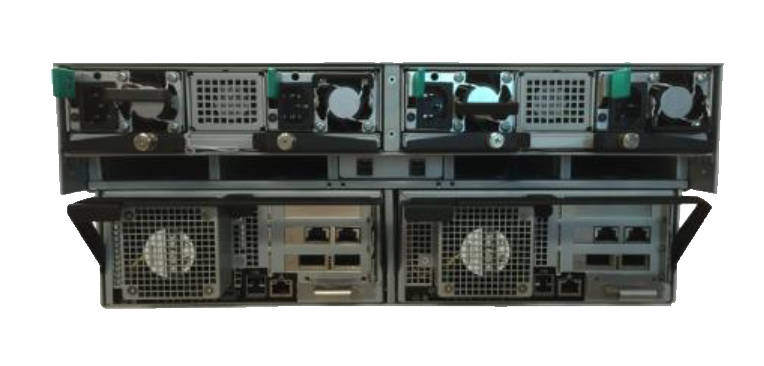 High Performance Enterprise Class High Density 94 drive Storage Server
The Viking Enterprise Solutions (VES) NDS-4900 High Density Storage Server combines 90 3.5" hard disk drives (HDD) with four 2.5" solid state disks (SSD) at 12Gb/s. There is no need to sacrifice HDD slots to incorporate SSDs for caching.
The enclosure contains either two single or two dual processor Haswell/Broadwell servers. Each server can power 2x 145W processors and 2x full spec PCIe cards. The servers are specifically designed for data throughput. The VES NDS-4900 Storage Server offers best-in-class performance and capacity, space-saving density, "green" energy efficiency and 24×7 high-availability redundancy of key components.
The NDS-4900 fits into an industry standard 19" wide by 1.2m deep rack. Its flexible configuration allows it to be deployed in a variety of applications.
PRODUCT BRIEF
INQUIRY
Features
Operation with either single or dual servers or I/O controllers for redundant failover
Multiple drive partitioning / split-bus zoning modes
Hot-pluggable servers or I/O controller(s), fan modules, & redundant, high efficiency, advanced power modules
SFF-8644, 12 Gb/s, SAS 3.0 host and expansion ports or expansion of up to 100 Gb/s network interface with server modules
Flexibility to choose SAS or SATA drives to achieve the right performance, reliability & price
Modular design increases product configuration flexibility
Standard chassis customization & branding available
SAS point-to-point connectivity isolates drive failures, increasing reliability & fault tolerance & improving performance
SAS daisy-chain expansion to additional storage arrays & other SFF-8644 SAS-compliant host/expansion ports, or add-on PCIe 3.0 HBA
| Host/Expansion Interfaces | Capacity | Hot-Swappable Components | Firmware |
| --- | --- | --- | --- |
| One or two Haswell/Broadwell server modules | 94-drive capacity per 4U enclosure | Two Haswell/Broadwell servers or two JBOD I/O modules | IPMI 2.0 baseboard management controller |
| Single or dual 145W processors | 90 LFF drive slots in main bay | Two AC to DC power modules | SCSI Enclosure Services (SES) 3.0-based firmware |
| Up to 3 PCIe 3.0 slots per server module | Four SFF drive slots in rear of enclosure | Each module includes two 1,600 watt power supplies | |
| Two x8 PCIe 3.0 | All drives 12Gb/s | One +5V regulator per power module provides hard drive power | |
| One x16 PCIe 3.0 (with dual CPU only) | | Optional supercap / battery modules are incorporated into the power modules | |
| Two M.2 boot drives | | Four independent AC power inputs | |
| NVDIMM support | | Up to 90 Drives in main bay | |
| Supercap power fail support | | Up to four SSDs in rear bays | |
| One or two VES SAS 3.0 JBOD I/O controller modules, each with six 12Gb/sec SAS 3.0 SFF-8644 ports | | | |
| 4U Rackmount Enclosure | Failure Notifications | Disk Drives | AC Power |
| --- | --- | --- | --- |
| Dimensions: 7.0 in. H x 16.5 in. W x 37.8 in. D (17.7 cm H x 41.9 cm W x 96.0 cm D) | IPMI fault reporting | 94 independent point-to-point connections to each SAS or SATA disk drive with dual-port access and failover by each controller to each drive | Input voltage: 180-264V AC |
| SCSI Enclosure Services (SES-3.0) over in-band interface and via LEDs | SCSI Enclosure Services (SES-3.0) over in-band interface and via LEDs | 90 3.5" drives in main drive bay | Input frequency: 47-63 Hz |
| | | Four 2.5" drive bays at rear of enclosure | Power supplies per power module: 2 |
| | | SATA drives require optional 2:1 Active MUX (interposer card) | Input current: 9.4 amps max @ 200V AC per power supply |
| | | Form factor: 3.5" & 2.5" SAS, SATA & SSD drives | Inrush current: 40 amps peak per power supply |
| | | Rotational speeds up to 15K RPM | Maximum system continuous DC output power rating: 3200 watts |
| | | Interface: 12Gb/6Gb/3Gb SAS; 6Gb/3Gb SATA | |
| Drive Partitioning/Split-Bus Zoning | Monitoring and Reporting | Performance | Operating Environment |
| --- | --- | --- | --- |
| Controller module can be zoned in two pre-defined zoning schemes for I/O modules & two for server modules | Monitoring for temperature, power, cooling (including fan speed control), disk drives, server & I/O module(s), as well as error rates & quality of service | Up to 48 GB/s (sustained reads) using 12 Gb/s SSD drives | Temperature: 5° to 35°C |
| Additional zoning schemes can be developed upon request | In-band reporting of all serial number, part number, & revisions of the server & I/O modules, power modules, drives, & chassis | Up to 38 GB/s (sustained reads) using 6 Gb/s SSD drives | Relative humidity: 20% to 80% (non-condensing) |
| | | | Altitude: -200 to 10,000 feet |
| | | | Shock: 3G at 11ms, 1/2 sine wave pulse |
| | | | Vibration: 0.10G at 5 Hz to 500 Hz |
| | | | Acoustics (declared sound power): 8.4 Bels with server Modules 7.7 Bels with I/O modules; at idle/active operation tested to ISO 7779 |
| Non-Operating Environment | Electromagnetic Emissions & Immunity Standards | Safety Standards | Quality Standards | Environment Protection |
| --- | --- | --- | --- | --- |
| Temperature: -40° to 60°C | CE Mark | UL 60950 | Manufactured under an ISO 9002 registered quality system | RoHS & WEEE compliant |
| Relative humidity: 10% to 90% (non-condensing) | EN55022: 2010 | CSA 22.2-950 | | |
| Altitude: -200 to 40,000 ft | EN61000 3-2:2014 | | | |
| Shock: 10G at 11ms, 1/2 sine wave pulse | EN61000 3-2:2013 | | | |
| Vibration: 0.5G at 5 Hz to 500 Hz | FCC Class A | | | |
| | Canadian IECS-003 | | | |