NDS-2244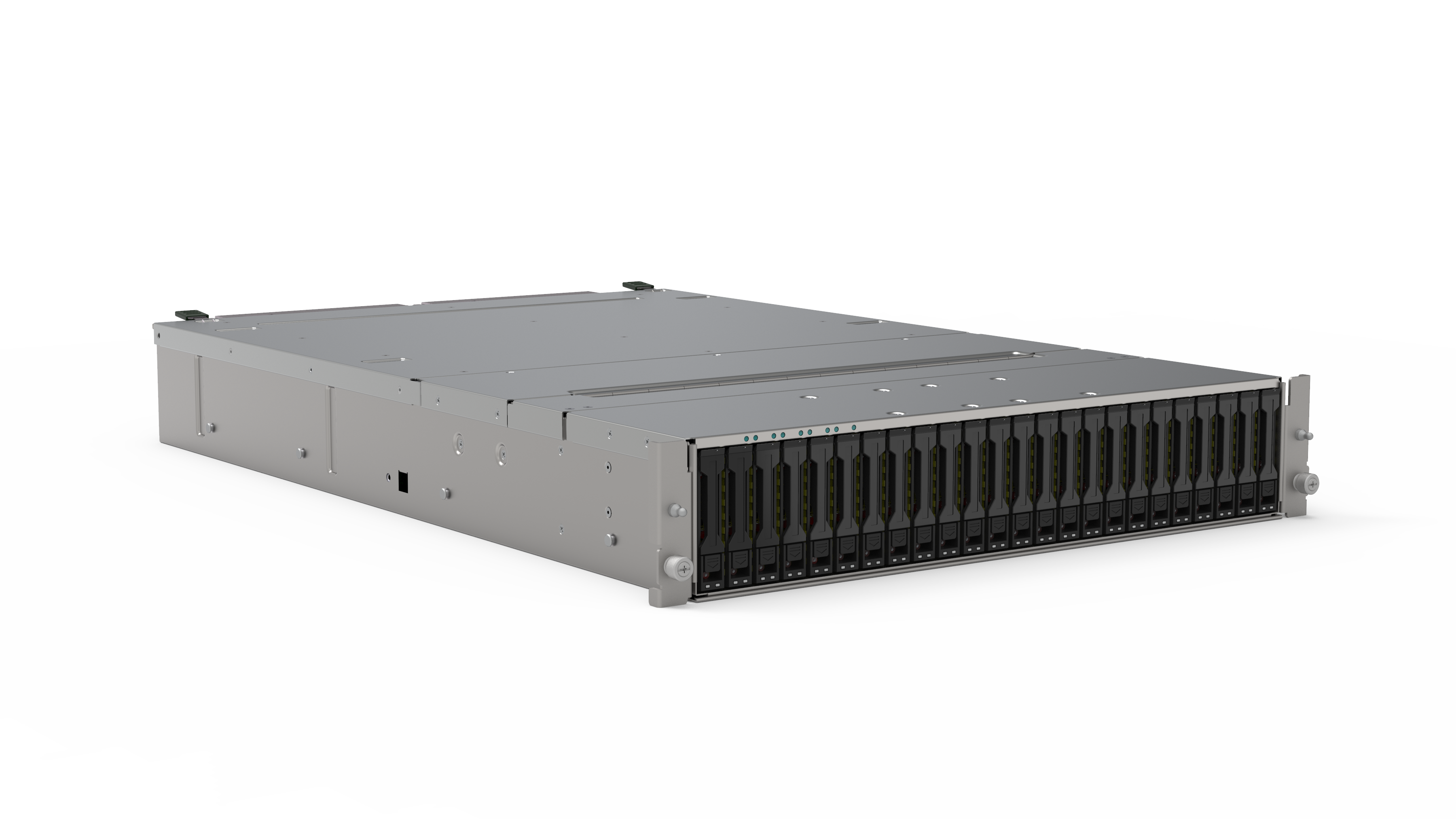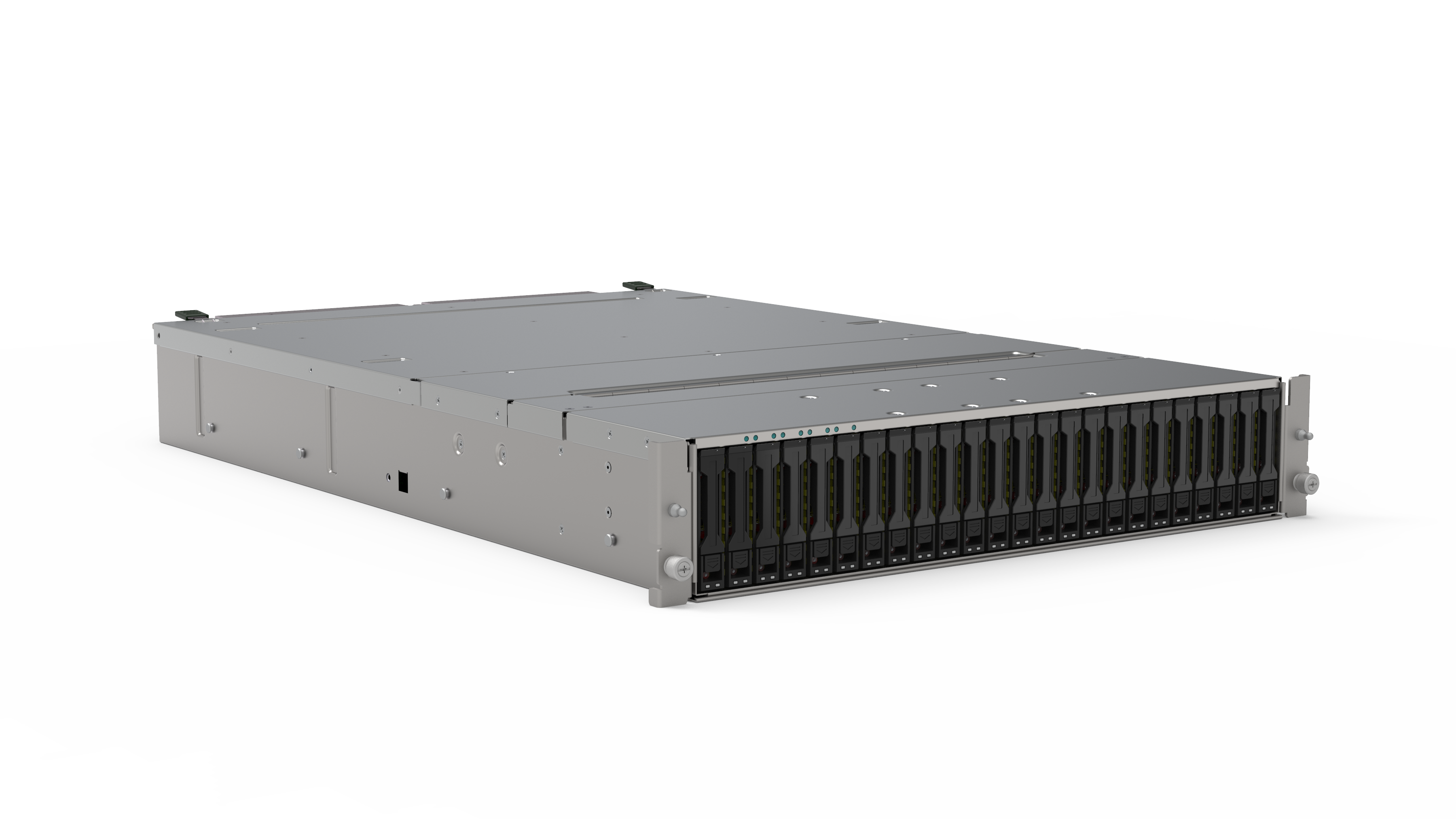 The Viking Enterprise Solutions (VES) NDS-2244 Ultra High Performance Solid State Flash Array has twenty-four (24) 2.5" drive bays supporting 25W SSDs. The NDS-2244 can provide high bandwidth / low latency access for up to 24 servers. The NDS-2244 also provides support for dynamic reconfiguration of SSDs to servers when supported by drivers, OS, and processors.
Developed as a high performance, flexible system for tier-one primary storage applications requiring high I/O, high bandwidth and/or sub-millisecond latency in a small form-factor.
Unparalleled Performance
Fully leverages the greater speed of PCIe SSDs compared to SAS / SATA SSDs, the NDS-2244 is the first product in its class to achieve greater than 15M IOPs with sub-millisecond latency in a 2U form factor (4K read blocks).
Provides full bandwidth up to 24 servers (x4 PCIe gen3 – 768 Gb/s full duplex).
Robust Enterprise-grade Functionality
The NDS-2244 offers robust enterprise-grade availability, reliability and serviceability. For easy swap-out, all active data path components are contained within field replaceable units (FRUs) including fans, SSD drives, interposers, power supply units (PSUs) and IO Modules.
VES, a product division of Sanmina Corporation, provides advanced data center products including flash and spinning disk-based storage server appliances, JBOD storage systems and other products for a variety of data center and storage applications. VES solutions are tailored for integration into OEMs, System Integrator and Internet Data Center partners' products, reducing development and operating costs while improving time-to-market.
PRODUCT BRIEF
INQUIRY
Features
Dual-port Access to NVMe Drives: The NDS-2244's unique architecture provides dual-port access to NVMe / PCIe drives providing redundant paths to the SSD.
Hot-Swap Functionality NVMe Drives: The NDS-2244 architecture supports drive hot-swap without taking the unit or any other drives off-line.
Dual I/O Modules: Dual I/O Modules provide switching to configure the SSDs in the NDS-2244. The I/O Modules provide redundancy for both data plane and data center management connectivity.
| 2U Rackmount Enclosure | Operating Environment | Safety Standards | AC Power | Hot-Swap Field Replaceable Units |
| --- | --- | --- | --- | --- |
| Dimensions: 89mm (2U) H x 446mm (19" rack) W x 650mm D | Temperature: 5° to 35°C | IEC/EN/UL/CSA 60950-1, 2nd Edition | Input voltage: Auto ranging, 90-264V AC 47-63H | 24 independent PCIe gen3 NVMe SSDs with interposer & carrier |
| Weight for VES NDS-2244 w/24 SSDs Single Shipping Pack: 80 lbs. typical | Temperature gradient: 20°C per hour | | | 1+1 redundant 1100W power supplies |
| Weight for VES NDS-2244 without SSDs for Rack Installation: 65 lbs. typical (no rail kit, drives, or carriers) | Relative humidity: 10 to 80 percent | | | 7+1 redundant fans |
| Environmental Protection | Other | Drive Configuration | Monitoring & Reporting | Host Adaptor Card |
| --- | --- | --- | --- | --- |
| RoHS and WEEE compliant | Individual SSD power controlSOLUTIONS | Three logical groups of eight SSD | Monitoring for temperature, power supplies & fans including fan speed control, SSDs & I/O Modules | NDS-2244: 24 x2 PCIe gen3 x4 ports |
| | | Flexible configuration | Automatic enclosure management failover between redundant | 24 on each IO Module |
| | | Full bandwidth: Each SSD on an individual NDS-2244 x4 port | Service Processors | Mini-SAS HD cables |
| | | Maximum Capacity: Eight SSDs on a NDS-2244 x4 port | 1GbE datacenter management connection – RJ45 | HHHL PCIe x8 card for host server |
| | | | Web-based (HTTPS) host interface | Four x4 Mini-SAS HD ports |
| | | | 25W NVMe SSD | Allows full bandwidth or over provisioned configurations |