NDS22482F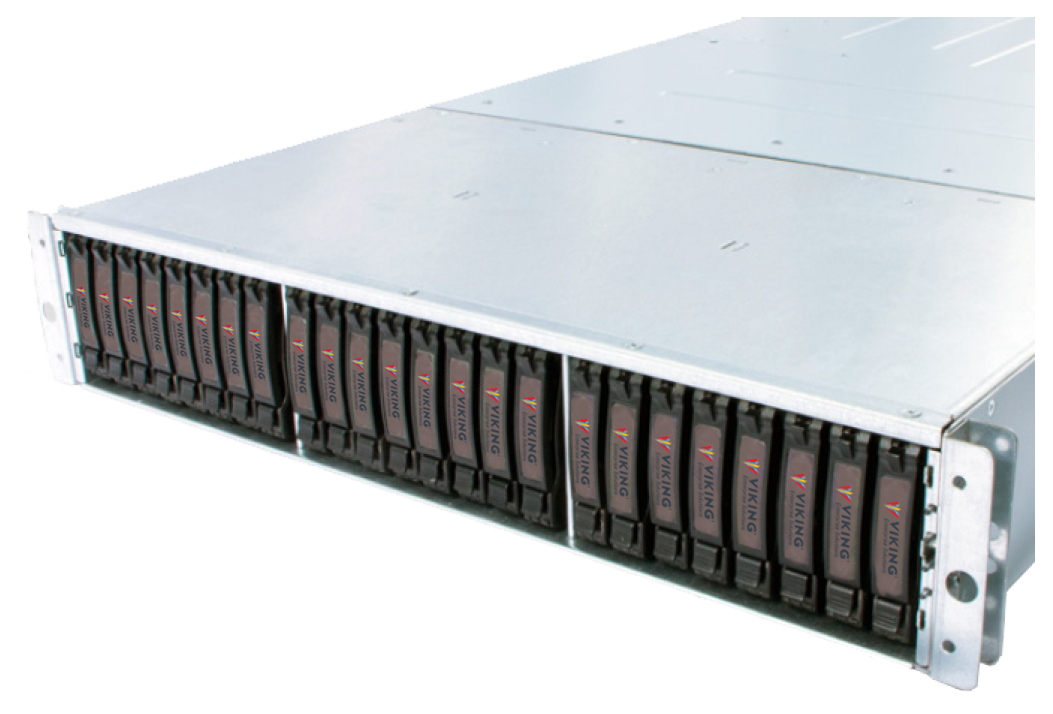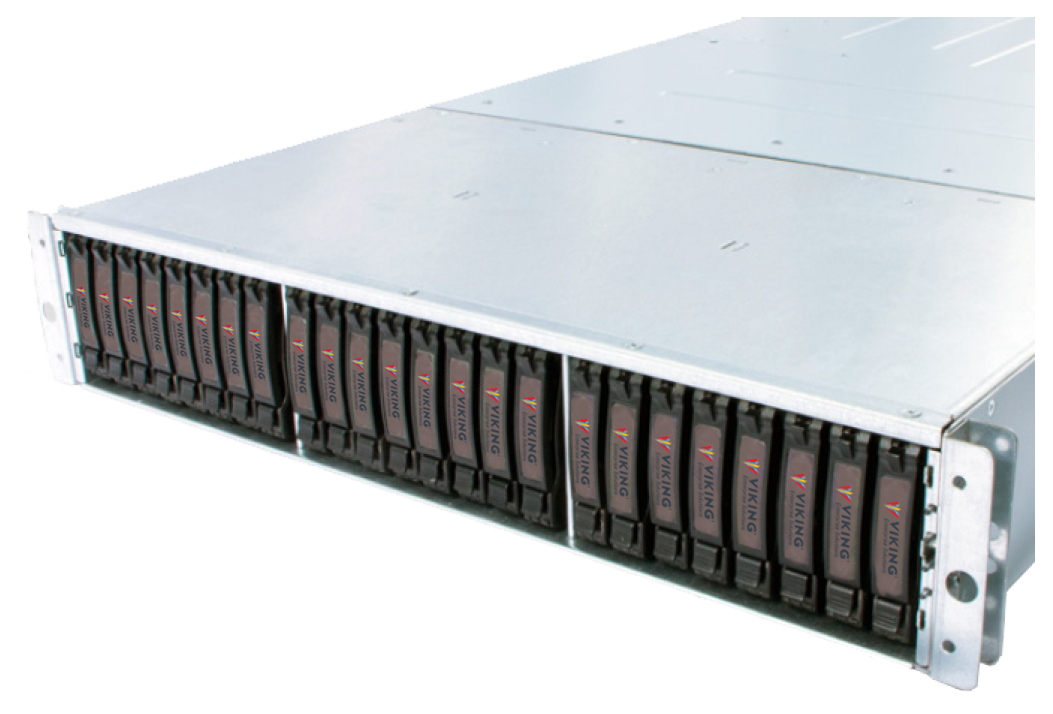 High Performance Enterprise Class Storage Using NVMe™ over Fabrics Technology
The Viking Enterprise Solutions (VES) NDS22482F Fabric Enclosure offers twenty-four 2.5-inch U.2 (SFF8639) NVMe™ SSDs with six 100 GbE QSFP28 network ports. The enclosure provides access to the high performance of the NVMe drives over the network with virtually no latency or performance penalty.
Two fabric modules are included with the enclosure. Each fabric module has a PCIe switch network and three PCIe add-in cards slots that are compatible with a wide range of Ethernet fabric adapter cards (full length, full height, up to 150W of power).
The solution utilizes third-party add-in cards and offers six 100 GbE QSFP28 network links for NVMe-oF™ access to the drives. All of the NVMe-oF target protocol occurs in hardware without the need of a host CPU. This provides a combination of incredible performance at over 15M IOPs, and extremely low total latency of less than 16μs. This total includes both fabric latency (<8μs) and NVMe drive latency (<8μs if using Intel® Optane™ drives).
PRODUCT BRIEF
INQUIRY
Features
Full NVMe performance available over the network
Operation with either single or dual fabric modules for redundant failover
Management interface to control drive access control & provisioning
Hot-pluggable fabric modules, power supplies & drives
SFF-8639, PCIe Gen 3 NVMe (U.2) drive support (up to 25W per drive)
Single & dual port NVMe drive support
Evolves with the market by using standard PCIe add in card adapters for NVMe-oF export (three x16 Ethernet add-in card slots per fabric module)
Accommodates NVMe-oF adapters that are up to full length, full height in size & up to 150W in power
Standard chassis customization & branding available
| Interfaces | Hot-Swappable Components | Firmware | Drive Partitioning |
| --- | --- | --- | --- |
| Two fabric modules | Two fabric modules | Allocation, access control, and portioning provided over 1 GbE management link | Controlled by the management software through the 1 GbE link |
| Three x16 PCIe 3.0 card slots per fabric module | Two AC to DC power supplies | CLI and GUI control for drive management & status of the enclosure | |
| Each add-in card slot accommodates up to a full length, full height PCIe card | Either 1100W or 1500W of power, dependent on add-in card power requirement | | |
| Up to 150W per add-in card | Two independent AC power inputs | | |
| Six-pin PCIe aux power is available for each slot | 24 drives in the front of the system | | |
| 2U Rackmount Enclosure | Failure Notifications | Operating Environment | Non-Operating Environment |
| --- | --- | --- | --- |
| Dimensions: 3.2 in. H x 17.6 in. W x 34.1 in. D (87 mm H x 448 mm W x 866 mm D) | Status and fault LEDs on the enclosure, fabric modules & drives | Temperature: 5° to 35°C | Temperature: -40° to 60°C |
| Weight with drives: 67.4 lbs (30.6 kg) max | | Altitude: -200 to 10,000 ft | Altitude: -200 to 40,000 ft |
| Standard rackmount shelf | | | |
| Mounts industry standard 19" x 1m deep rack | | | |
| Safety Standards | Quality Standards | Environment Protection | Electromagnetic Emissions & Immunity Standards | Monitoring & Reporting |
| --- | --- | --- | --- | --- |
| UL 60950 | Manufactured under an ISO 9002 registered quality system | RoHS and WEEE compliant | CE Mark | Monitoring for temperature, power, cooling (including fan speed control), disk drives, as well as error rates & quality of service |
| CSA 22.2-950 | | | EN55022: 2010 | Reporting of all serial number, part number, and revisions of the fabric modules, power supplies, drives & chassis |
| | | | EN61000 3-2:2014 | |
| | | | EN61000 3-2:2013 | |
| | | | FCC Class A | |
| | | | Canadian IECS-003 | |
| Non-Operating Environment | Electromagnetic Emissions & Immunity Standards | Safety Standards | Quality Standards | Environment Protection |
| --- | --- | --- | --- | --- |
| Temperature: -40° to 60°C | CE Mark | UL 60950 | Manufactured under an ISO 9002 registered quality system | RoHS & WEEE compliant |
| Relative humidity: 10% to 90% (non-condensing) | EN55022: 2010 | CSA 22.2-950 | | |
| Altitude: -200 to 40,000 ft | EN61000 3-2:2014 | | | |
| Shock: 10G at 11ms, 1/2 sine wave pulse | EN61000 3-2:2013 | | | |
| Vibration: 0.5G at 5 Hz to 500 Hz | FCC Class A | | | |
| | Canadian IECS-003 | | | |