VSS2249R
The Viking Enterprise Solutions (VES) VSS2249R storage server offers 24 2.5" PCIe v4.0 NVMe drives (U.2) combined with two server modules.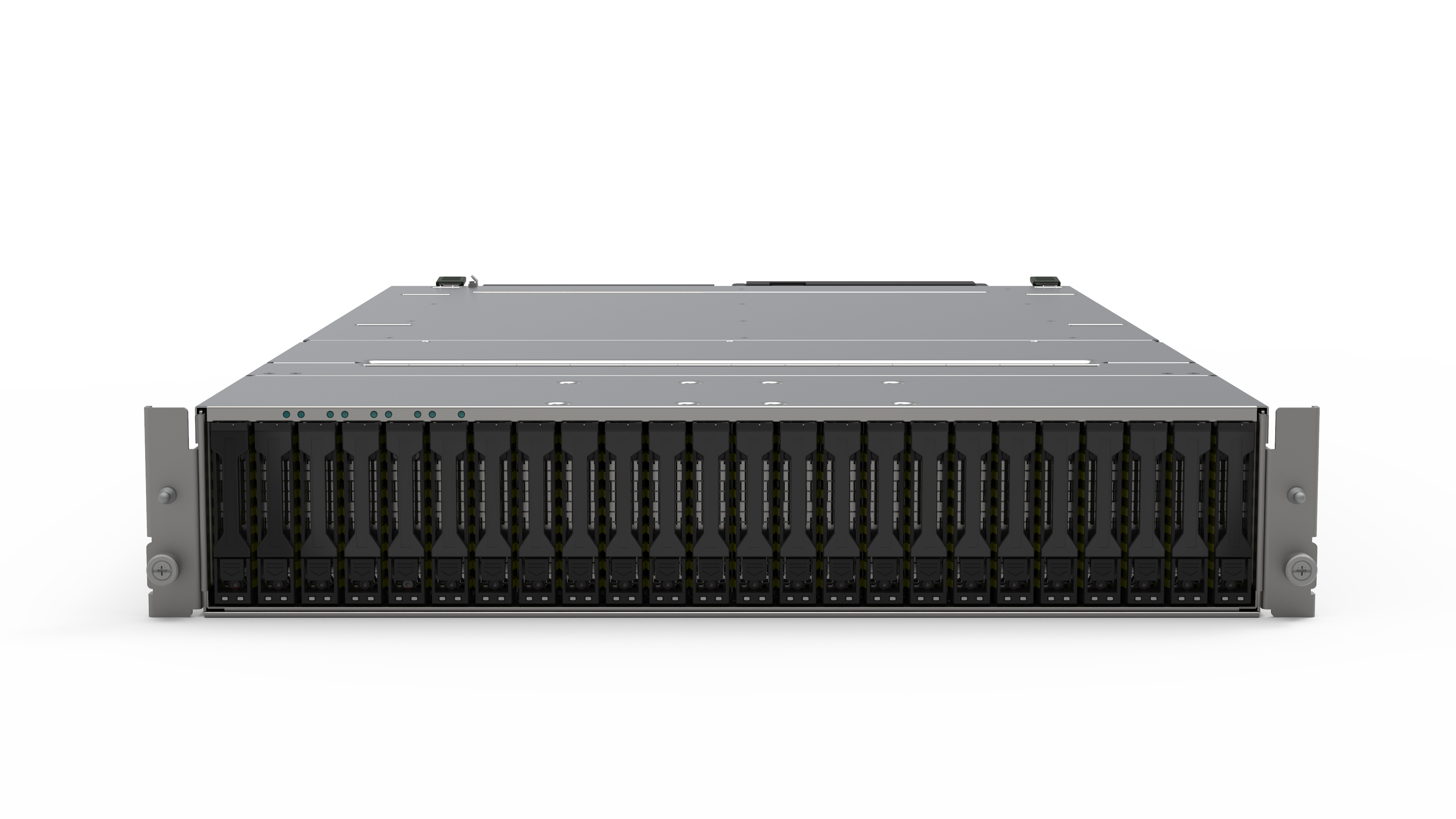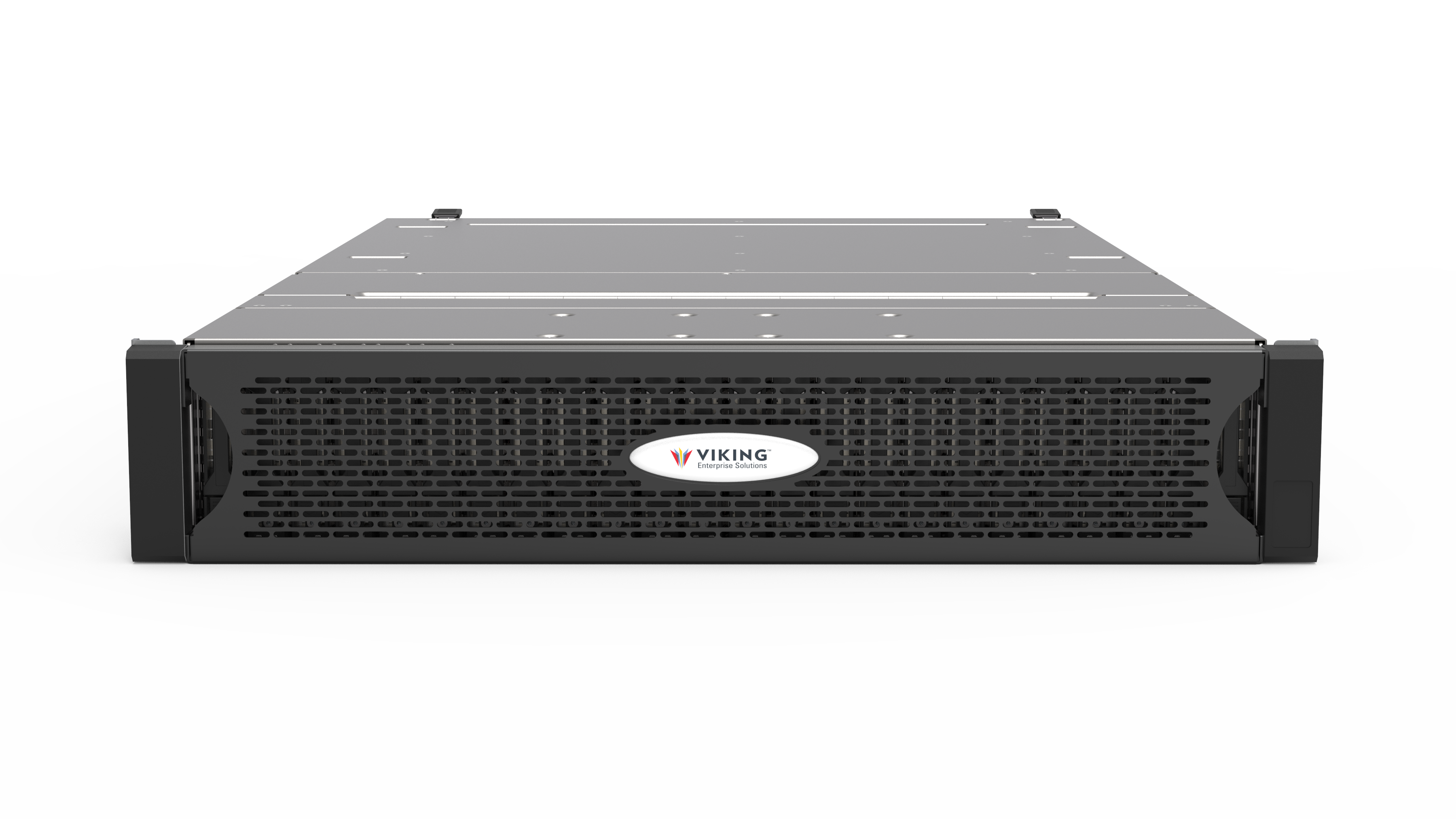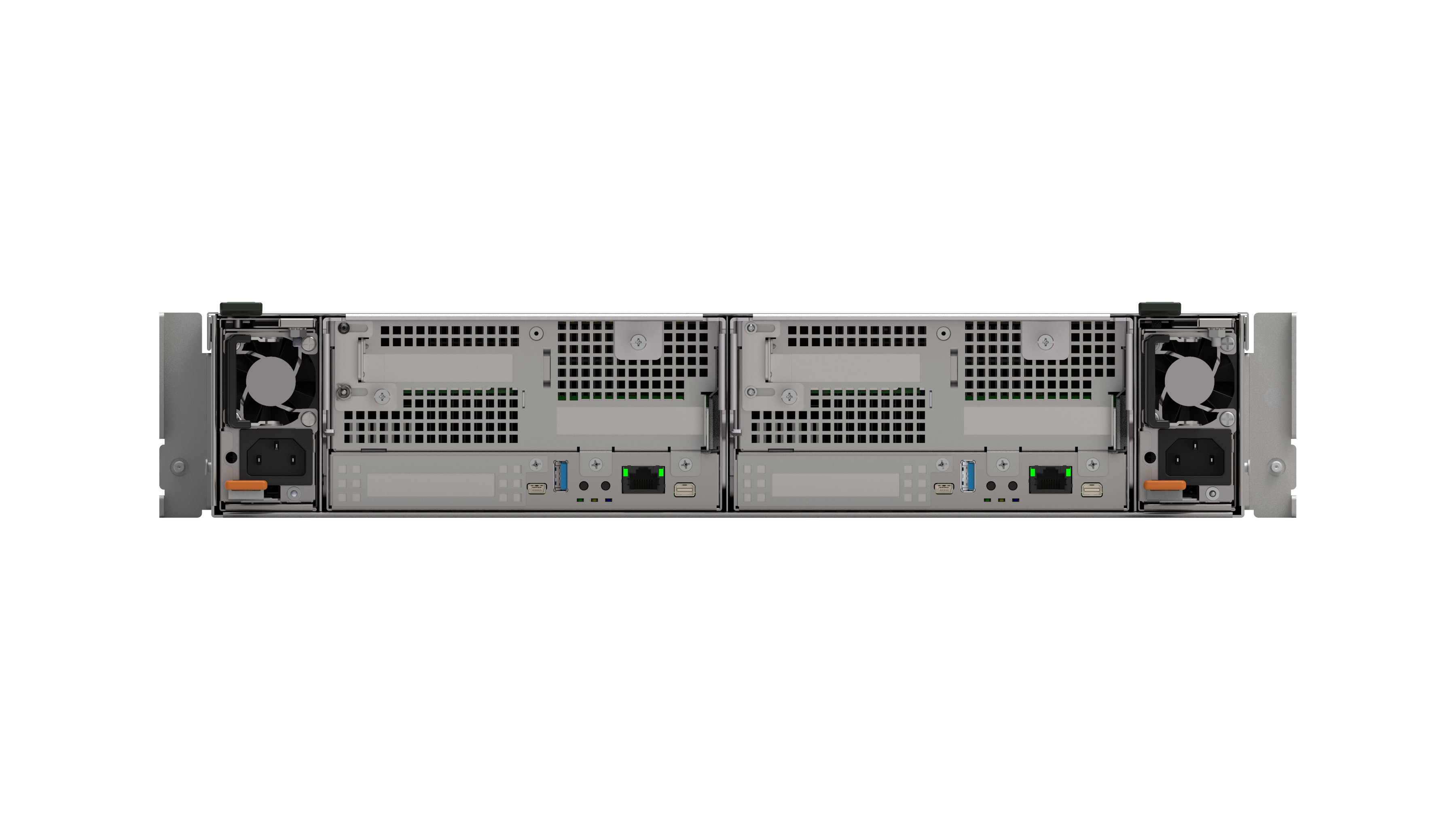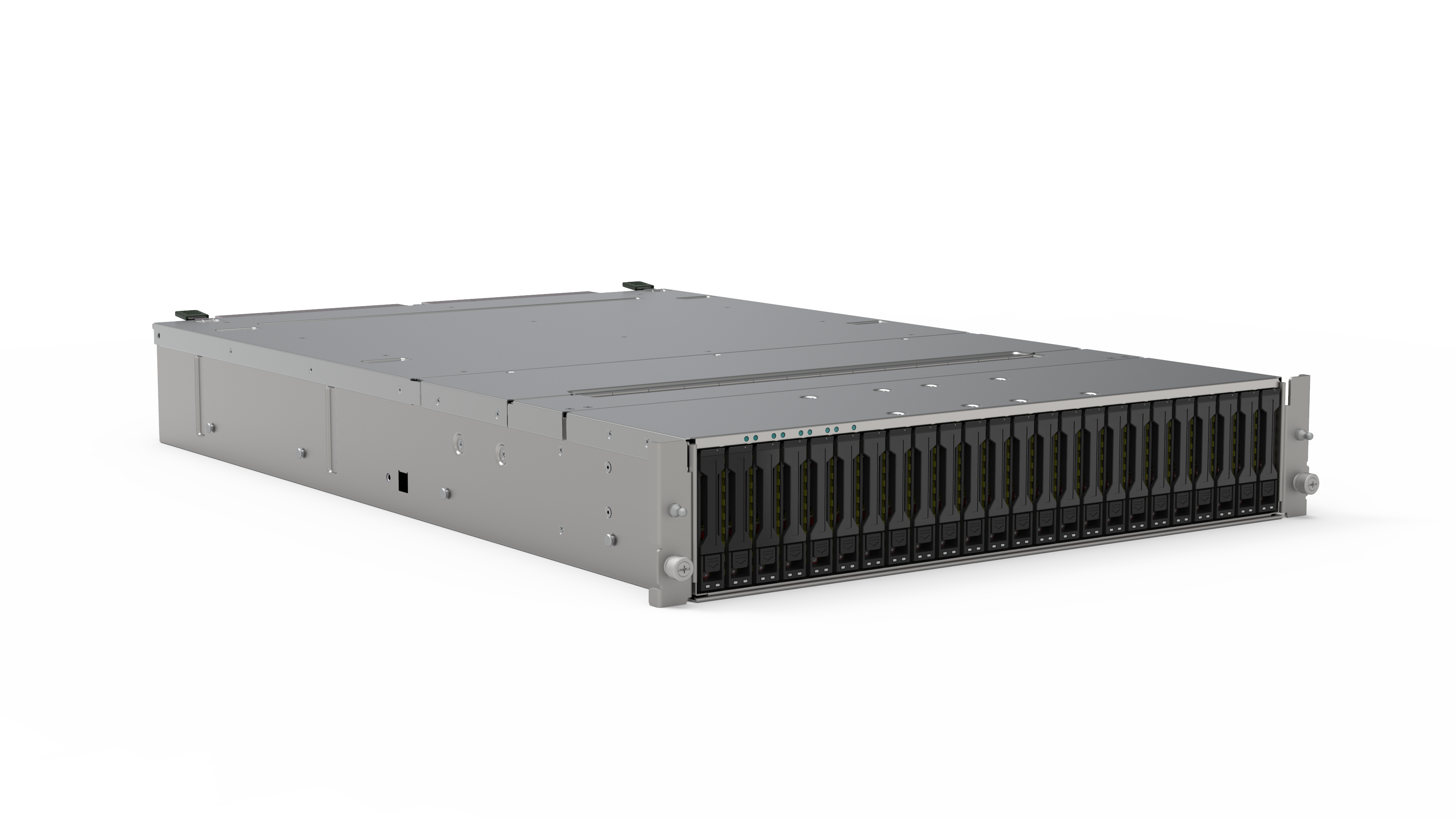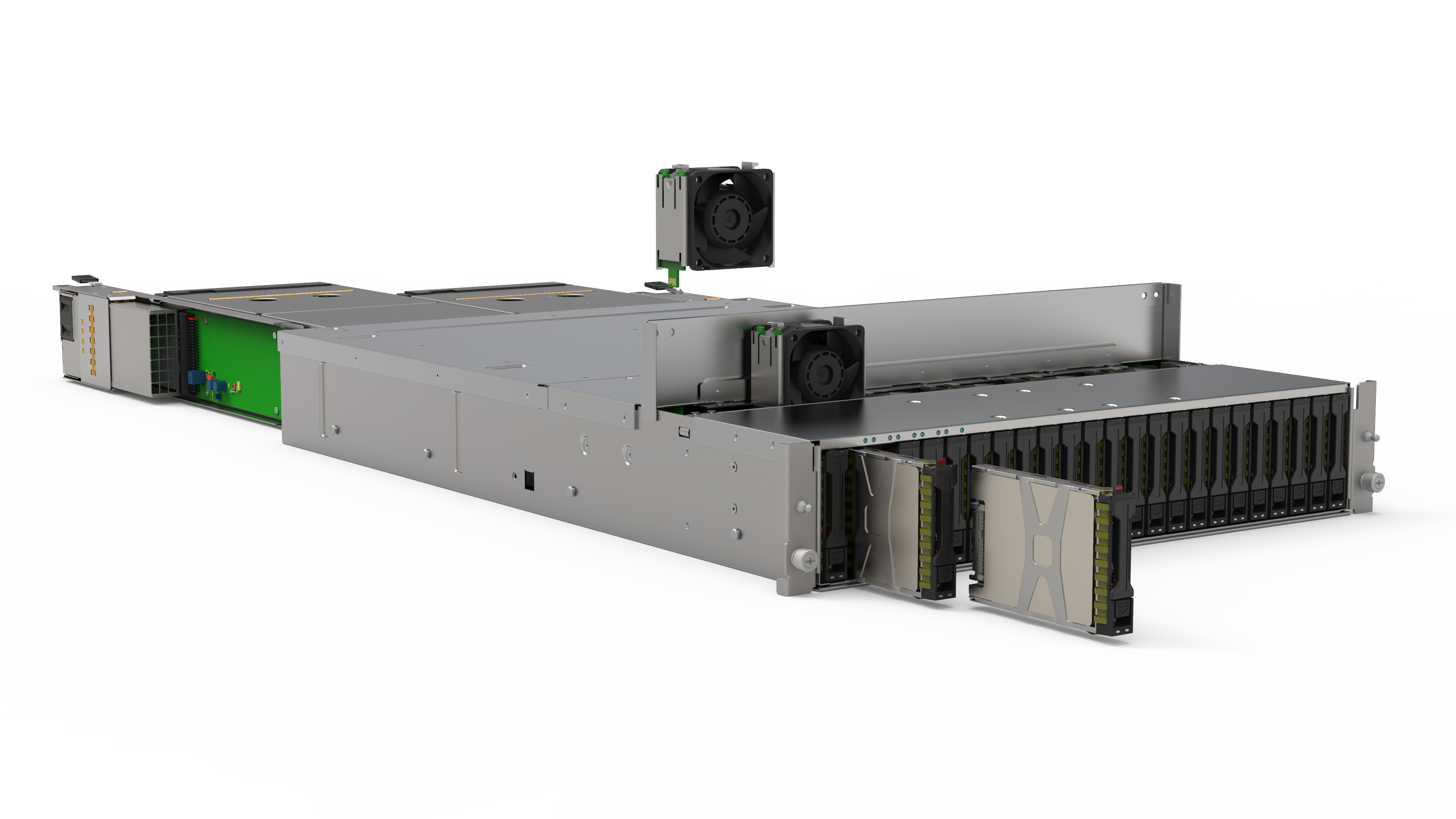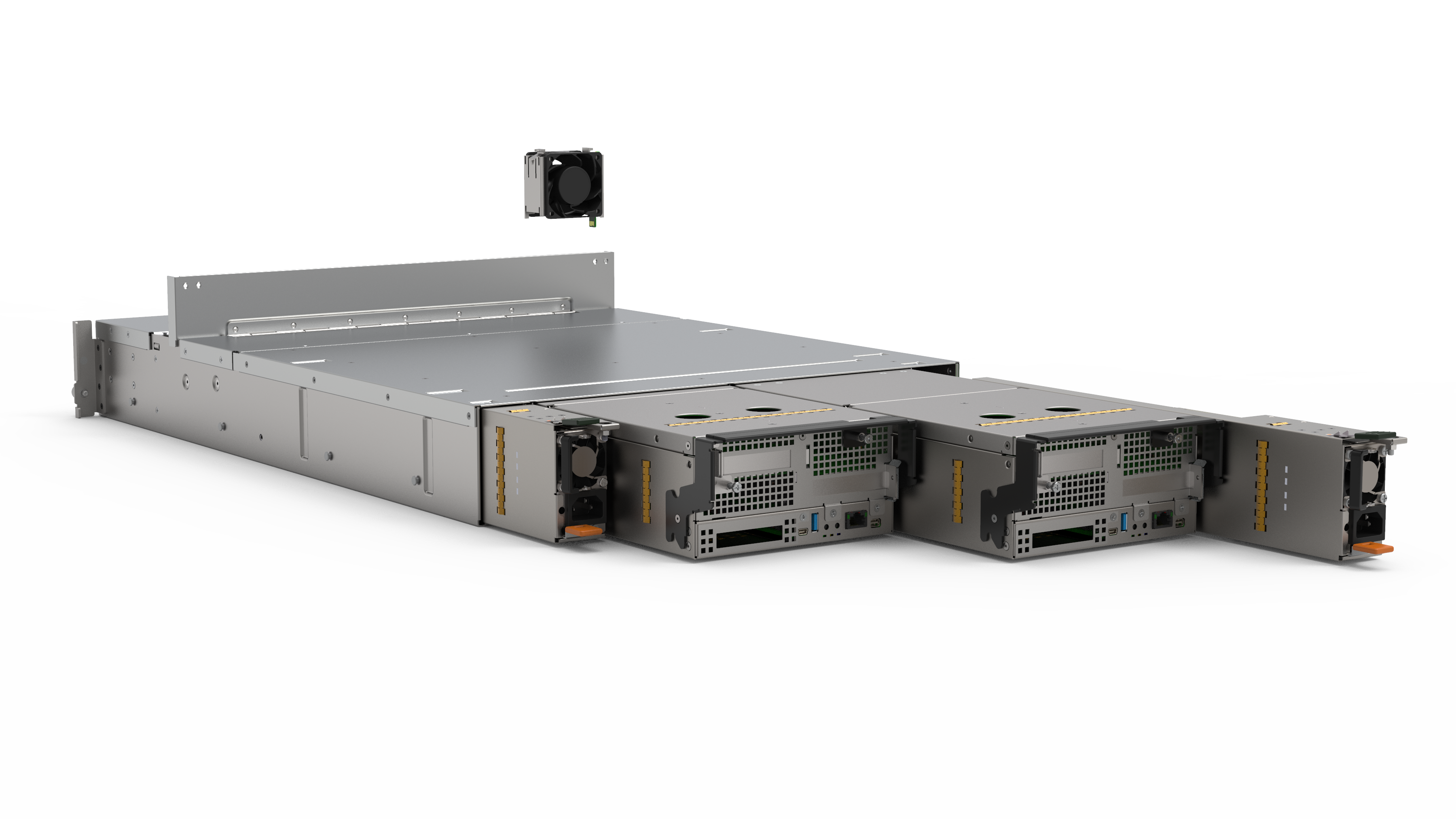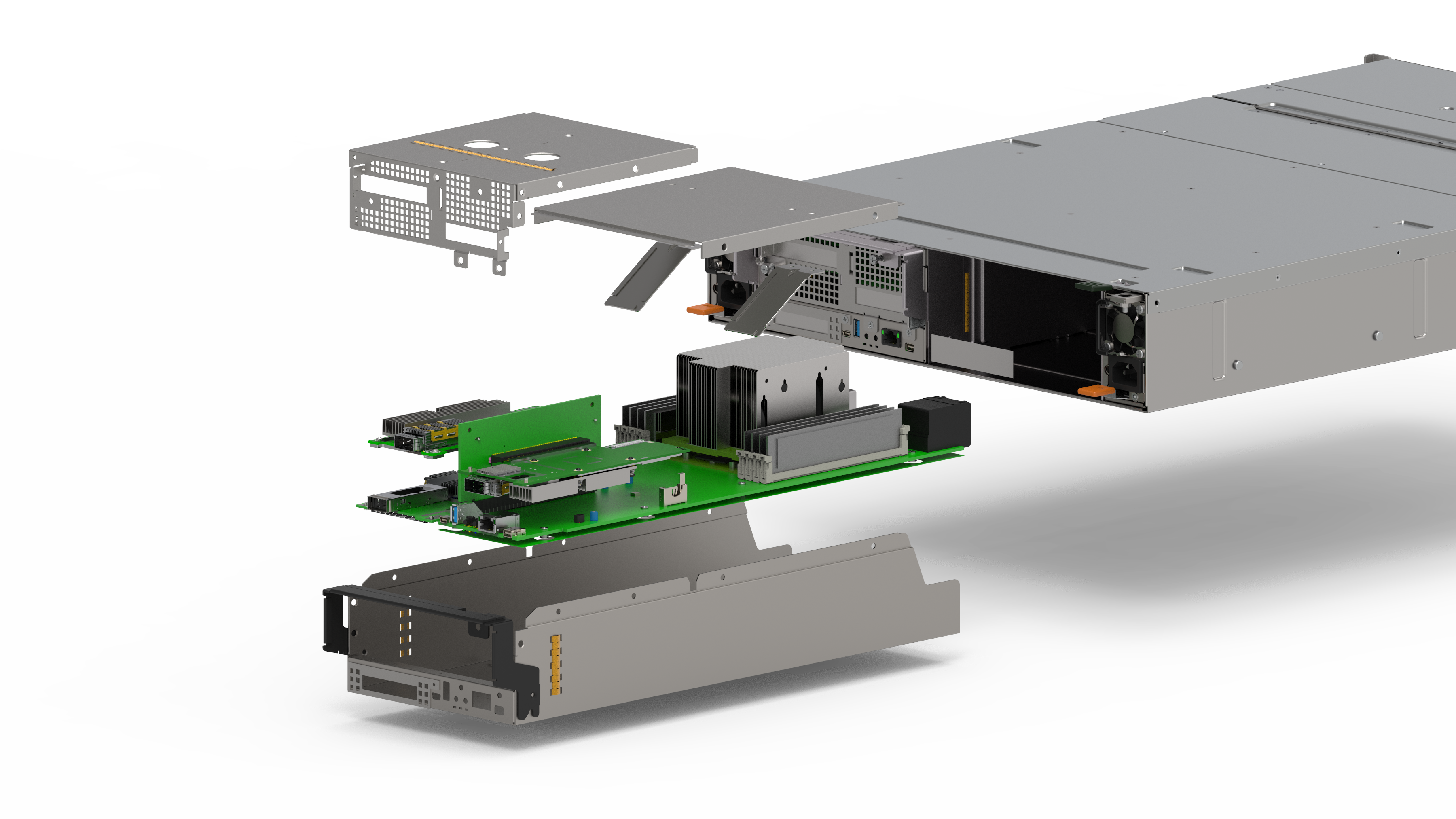 VSS2249R exploded front iso
VSS2249R exploded rear iso
VSS2249R Exploded Canister Rear with PCBA
VSS2249R Rear Iso PCBA no shadow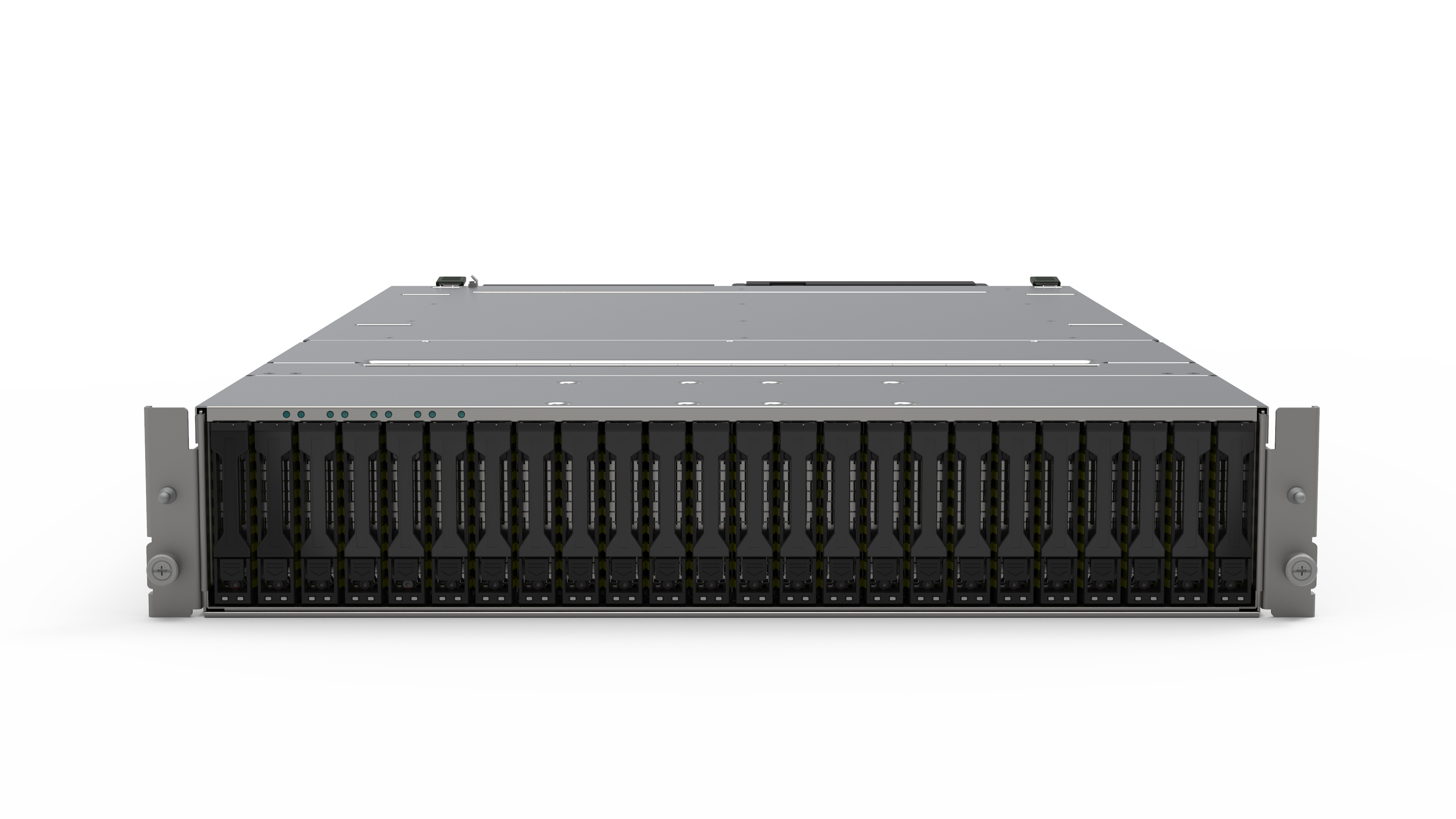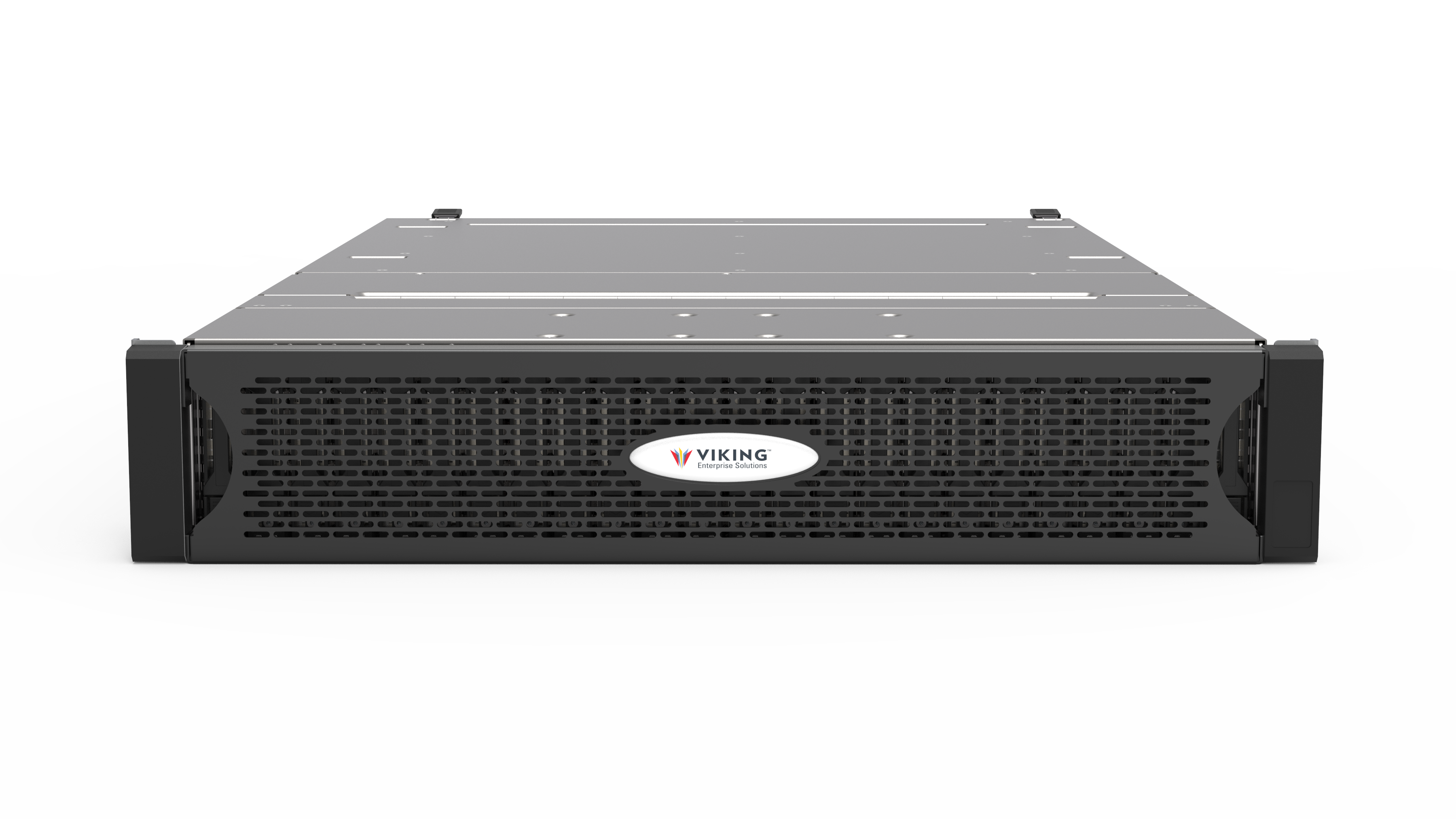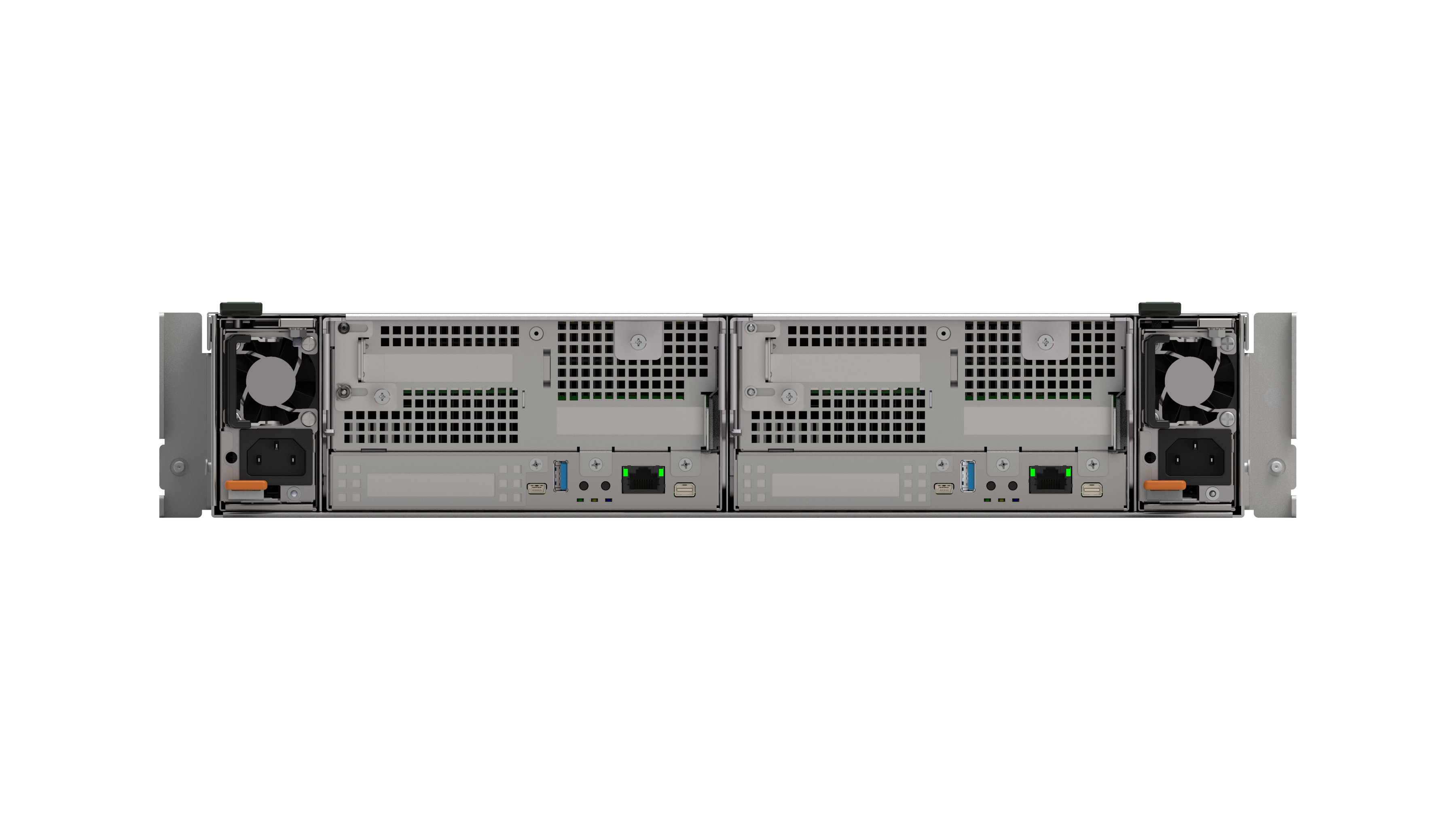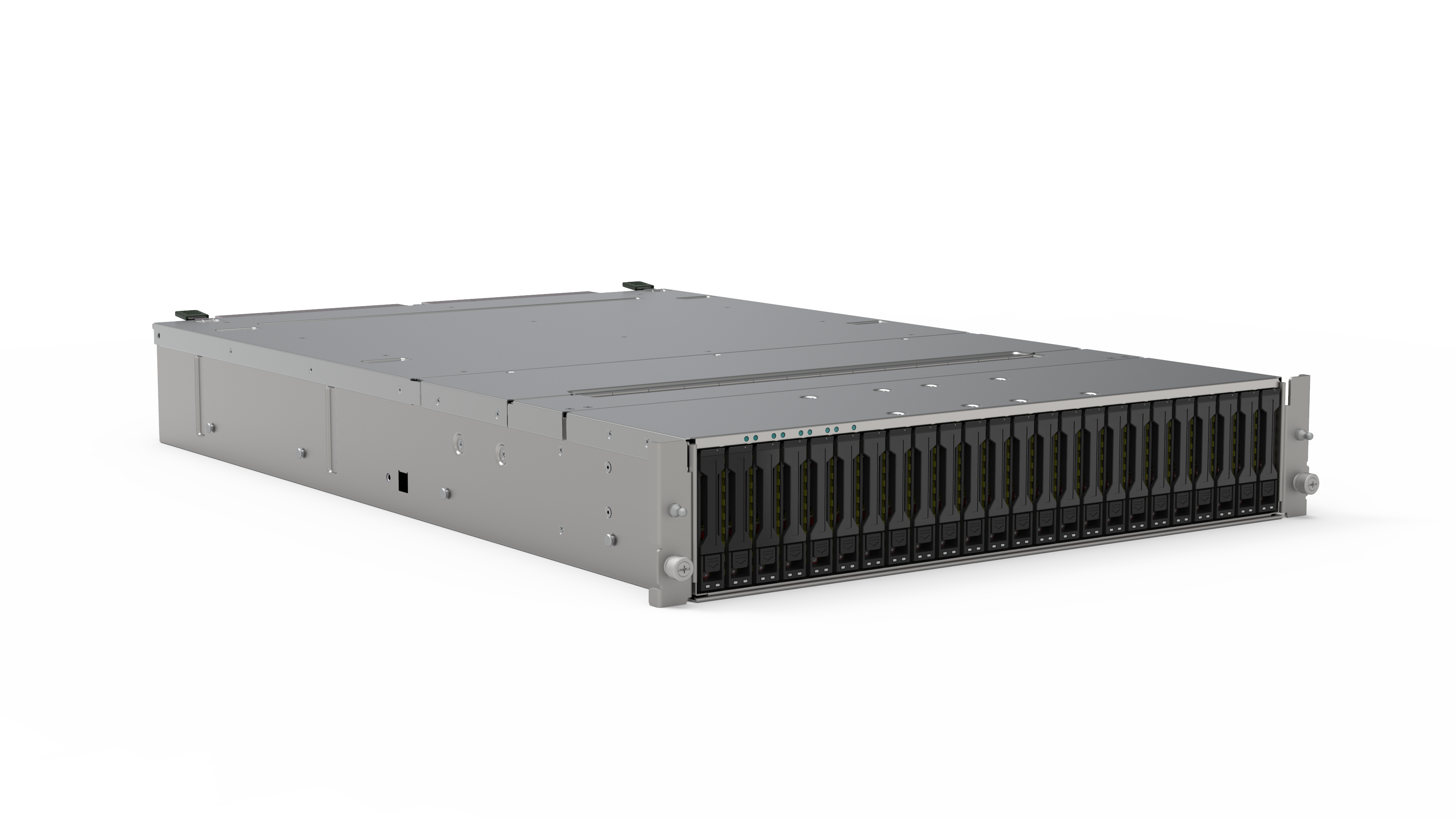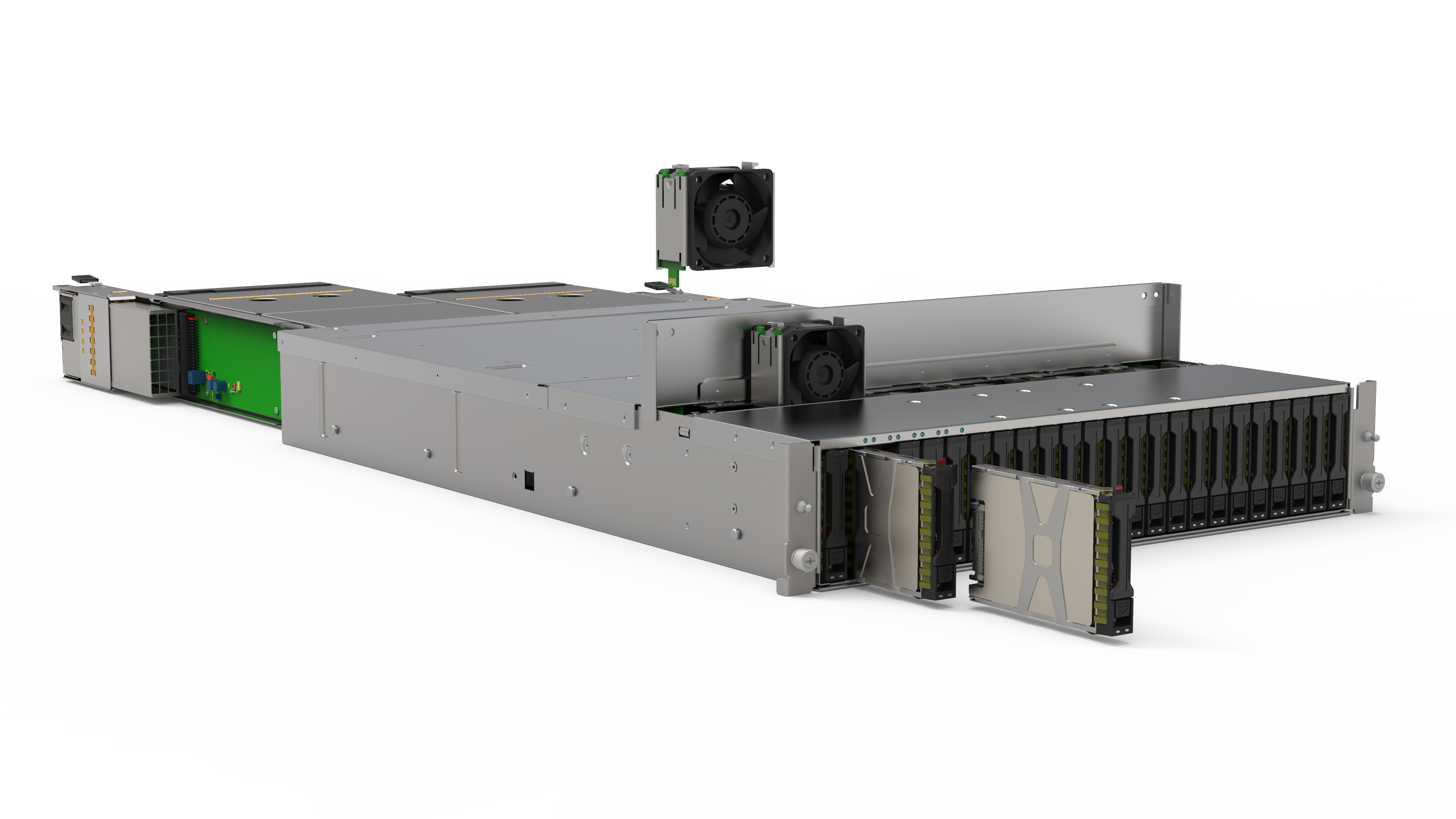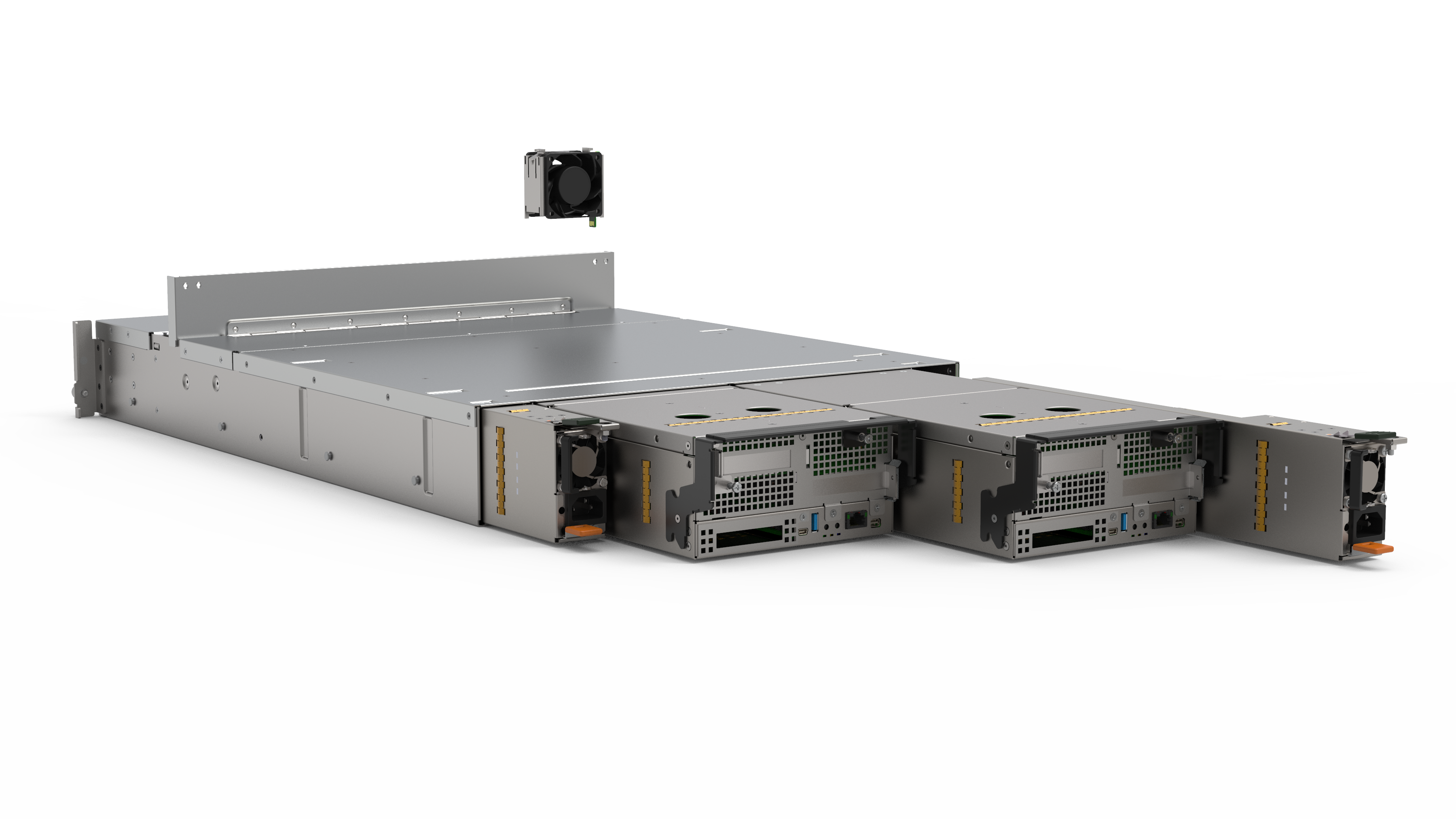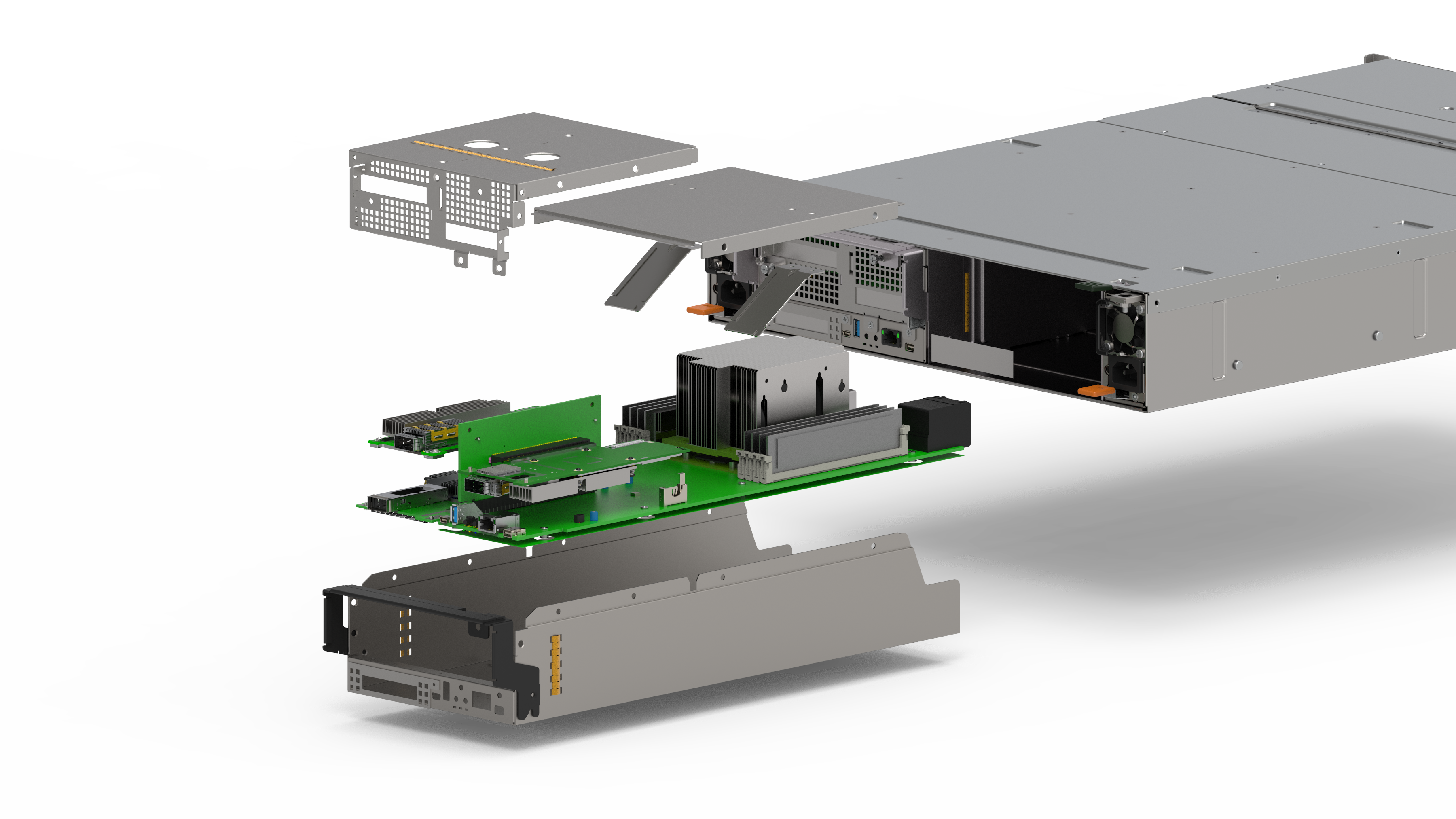 Each server has access to all 24 NVMe drives with dual port devices. The VSS2249R is a dense HA solution that provides the ultimate storage performance in a small package.
The enclosure contains two hotswappable server modules. Each of the server modules includes an AMD EPYC™ CPU with two x16 PCIe v4.0 and one OCPNIC 3.0 PCIe v4.0 add in card slots, and up to 8 DIMMs. The VSS2249R fits into an industry standard 19" wide by 1m deep rack. Its flexible configuration allows it to be deployed in a variety of applications.
Extremely fast 2U storage with 24 PCIe v4.0 NVMe drives and two servers supporting 96 PCIe lanes to the drives and 96 PCIe lanes to the network.
The VSS2249R alleviates job pipeline congestion, a common limitation caused by I/O bottlenecks in many high performance applications such as edge computing storage, analytics, Machine Learning, AI, OLTP transactional databases, high frequency trading, as well as modeling, simulation, scientific research, and other HPC use-cases.
FEATURES
Latest AMD CPU technology provides 128 PCIe v4.0 lanes per CPU.24 Hot-pluggable NVMe PCIe v4.0 drives
HA system with each server able to access all of the drives
Management interface to control drive access & provisioning
Hot-pluggable servers, power supplies, fans & drives
SFF-8639, PCIe v4.0 NVMe (U.2) drive support (up to 25W per drive)
Dual port NVMe drive support
Resilient environmental specification with up to a 35C ambient inlet
Standard chassis customization & branding available
| | | | | |
| --- | --- | --- | --- | --- |
| AC POWER | HOT-SWAPPABLE COMPONENTS | FIRMWARE | DRIVE PARTITIONING | 2U ENCLOSURE |
| Nominal Input Range: 200 – 240VAC | Two Server Modules | IPMI and Redfish management | Management software controls the visibility & access to each drive | Dimensions: 3.43 in. H x 17.2 in. W x 27.44 in. D (87 mm H x 438 mm W x 697 mm D) |
| Input frequency: 50-60 Hz | Six fans | CLI and GUI control for drive management & status of the enclosure | | Weight with drives: 56.2 lbs (22.8 kg) max |
| Power Source: dual redundant 1600W | Two AC to DC power supplies − Each supply provides up to 1600W of power | | | Optional railkit with CMA |
| Input current: 4 amps max @ 180V AC per power supply | Two independent AC power inputs | | | |
| Inrush current: 40 amps peak per power supply | 24 NVMe 4.0 drives (hot pluggable) | | | |
| Maximum system output power rating: 2200W | | | | |
| | | | | | |
| --- | --- | --- | --- | --- | --- |
| FAILURE NOTIFICATIONS | PERFORMANCE | CAPACITY | OPERATING ENVIRONMENT | NON-OPERATING ENVIRONMENT | DRIVE PARTITIONING |
| Status & fault LEDs for the enclosure, drives & servers | Up to 96 GB/s bandwidth between both servers | 24-drive capacity: U.2 PCIe 4.0 NVMe drives; dual port drive; up to 25W per drive | Temperature: 5° to 35°C | Temperature: -40° to 60°C | Management software controls the visibility and access to each drive |
| | | | Relative humidity: 20% to 80% (non-condensing) | Relative humidity: 10% to 90% (non-condensing) | |
| | | | Altitude: -200 to 10,000 ft | Altitude: -200 to 40,000 ft | |
| | | | Shock: 3G at 11ms, 1/2 sine wave pulse | Shock: 10G at 11ms, 1/2 sine wave pulse | |
| | | | Vibration: 0.10G at 5 Hz to 500 Hz | Vibration: 0.5G at 5 Hz to 500 Hz | |
| | | | | |
| --- | --- | --- | --- | --- |
| SAFETY STANDARDS | QUALITY STANDARDS | SERVERS | ELECTROMAGNETIC EMISSIONS & IMMUNITY STANDARDS | MONITORING & REPORTING |
| IEC 62368 -1:2014 | Manufactured under an ISO 9002 registered quality system | | EN 55035:2017 | Monitoring for temperature, power, cooling (including fan speed control), drives, as well as error rates & quality of service |
| | | AMD EPYC™ processors: running I/O at PCle v4.0; each CPU sees all 24 drives; each drive is dual ported and connected to each server module; highly available system | EN 55024:2010 | Reporting of all serial number, part number, & revisions of the server modules, power supplies, drives & chassis |
| | | | EN 55032:2015 + AC:2016 | |
| | | | EN 61000-3-2:2014 | |
| | | | EN 61000-3-3:2013 | |
| | | | FCC 47 CFR PART 15 SUBPART B | |
| | | | ICES-003 ISSUE 6:2016 | |